Computational Engineering – Bridging the gap between the disciplines
Contact the student advisor:
Consultations via video chat can be arranged at any time.
Here: Book an individual appointment at the SSC-CE / AI / TSE online.
Office hours:
Tue, Wed, Thu 13:30 – 15:00 pm.
FAU student team wins the SC22 Student Cluster Competition HPCG Challenge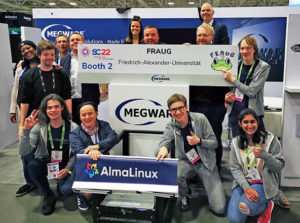 At the SC22 conference last week in Dallas, TX, student teams from all over the world took part in the Student Cluster Competition, a contest that requires operating an HPC system and running a selection of high-performance applications as fast as possible under a strict power constraint. The FAU team "FRAUG" was jointly organized by the Chair of Computer Science 3 (Computer Architecture) and the NHR@FAU. The team consists of six bachelor students from Computer Science and Computational Engineering. They chose to use a single node from our "Alex" cluster, i.e., an AMD-based host with eight NVIDIA A100 GPUs. MEGWARE kindly took care of delivering it to the conference–>
Information – Event FAU-USI Computational Science and Engineering double degree
A cordial invitation to attend the USI-FAU Computational Science and Engineering double degree program info event–>
When: Wednesday, May 10, 2023 @ 16:00 to 17:00 (CET)
In-Person Location:  FAU, Martensstraße 3, 91058 Erlangen (Blue Computer Science Tower, 2nd floor, 02.152-113)
Zoom Link: https://fau.zoom.us/j/64903752573?pwd=SDBSb1JJYW5RK25MYTlNSnNCS2k0UT09
Meeting-ID: 649 0375 2573 Passcode: 283091
News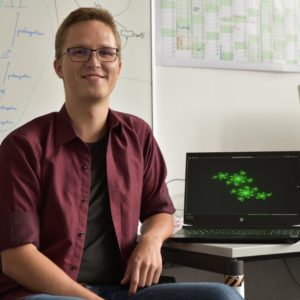 Recently Mr. Johannes Lebender, a Computational Engineering student at FAU was interviewed by think ING, where he talks about his experience at the university and his motivation for pursuing a second Bachelor's degree. Don't miss out on the opportunity to read about the interview here: Doppelt hält besser.
Information on EUMaster4HPC

EUMaster4HPC is a 2-year innovative pan-European master program in HPC technology and use. A program that will deliver academic excellence and offer perspective students outstanding career opportunities in businesses and research organisations. It aims to equip prospective students with skills that are sought after in the competitive job market.
Students can apply online through the Application form.